Lingley Mere Business Park Travel Share
April 18, 2007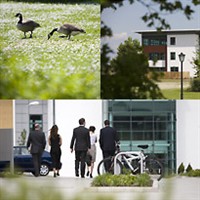 TRL is to help businesses at the new Lingley Mere Business Park in Warrington,with the introduction of a web based software programme from CarShare Online.

To avoid congestion at peak times, Lingley Mere Business Park is committed to keeping traffic flows within a threshold agreed with the local highway authority. Single person car occupancy and unnecessary car trips will be minimised and alternative travel modes promoted through their Travel Plan. The adoption of CarShare Online will provide one of the solutions to manage traffic to and from Lingley Mere, whilst helping staff with their commute to work, and businesses with their travel needs. It will help to reduce polluting emissions, ease congestion and lessen overall demand for parking spaces.

Anthony Setter, Director with Cole Easdon Consultants who is acting as the Travel Plan Coordinator for Lingley Mere, said: We looked at a number of Carshare providers and chose CarShare Online because it was an easy to use system with high quality mapping and good value for money. Whilst offering users the opportunity to share commuting journeys it also includes provision for pedestrians, cyclists and business travel, expanding the scope of the scheme beyond simple car commuting.

Car sharing has obvious advantages for companies by way of assisting with the recruitment and retention of staff. It can also help companies to reduce their environmental impact on their local community and can often become the cornerstone of asustainable transport policy for the area.

Car sharing can also lead to a healthier work force as sharing car travel can reduce stress levels and also allows for cyclists and walkers to team up and travel together.

On a personal level, car sharing will reduce an individuals motoring costs.

Chris Edge, TRLs Software Business Development Manager, said "We are delighted that we have been able to provide this green travel option to Lingley Mere Business Park. It is a tangible example of how businesses operating out of the one location, can join together to mutual advantage, as well as help their local area environmentally."

CarShare Online can be provided either as a managed service or as a standalone application. Organisations can join existing schemes or TRL can create a branded scheme especially for them.